(printer friendly)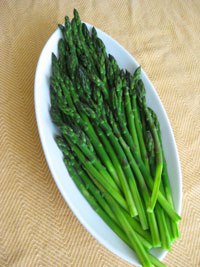 1 1/2 pounds thin asparagus, trimmed

1/2 cup packed fresh flat-leaf parsley
2 tablespoons extra-virgin olive oil
2 tablespoons verjus (juice of unripe fruits) or 1 tablespoon fresh lemon juice
1 teaspoon Dijon mustard, or to taste

1/2 cup mayonnaise


1. Have ready a large bowl of ice and cold water. In a large saucepan of boiling salted water blanch asparagus 1 minute and transfer with tongs to ice water to stop cooking. Drain asparagus well in a colander and pat dry. Asparagus may be blanched 1 day ahead and chilled in a sealable plastic bag.

2. Wash and dry parsley and in a blender puree with oil, verjus or lemon juice, and mustard until smooth. Stir puree into mayonnaise and season with salt and pepper.

3. Serve mayonnaise with asparagus for dipping.