(printer friendly)
Serves 6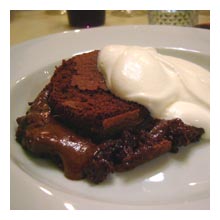 1 stick (4 ounces) unsalted butter, cut into pieces
4 ounces bittersweet chocolate, coarsely chopped
3 large eggs
1/2 cup sugar
1/3 cup all-purpose flour
Whipped cream, for serving

plus extra butter & flour for coating ramekins



1. Preheat the oven to 450°F. Butter and lightly flour six 6-ounce ramekins; tap out the excess flour. Set the ramekins on a baking sheet.

2. Melt the butter in a small saucepan. Put the chocolate in a small bowl, pour the butter on top and stir until smooth.

3. In a bowl, using an electric mixer, beat the eggs with the sugar at medium speed until thick and pale. Beat in the flour; then add the chocolate mixture. Spoon the batter into the prepared ramekins. Can be covered and refrigerated at this point for a few hours. Bake in the center of the oven for about 12 minutes, or until the tops of the cakes begin to crack. May take an extra few minutes if they were refrigerated.

4. Let the cakes cool in the ramekins for 1 minute. Run a thin knife around the sides of the cakes to loosen them, then cover each ramekin with an inverted dessert plate. Turn them over, let stand for a few seconds and then remove the ramekins. Serve the cakes immediately with a dollop of whipped cream. Alternatively, serve the cakes in the ramekins and pass the whipped cream at the table.