(printer friendly)
serves 8-10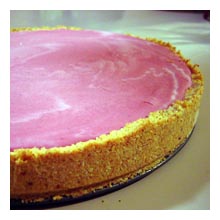 For crust
1 1/2 boxes of shortbread cookies (about 8oz total)
1/2 cup almonds, toasted and cooled

For filling
2 large eggs
1/2 cup plus 1 tablespoon sugar
pinch of salt
1 1/2 cups marionberries (fresh or frozen)
1 1/2 cups chilled heavy cream



1. Preheat oven to 350F.

2. Break shortbread into pieces and pulse pieces with nuts in a food processor until finely ground. Press firmly over bottom and 1 inch up side of a 9 inch springform pan. Bake crust for 8-10 minutes until golden brown, then cool in pan on a rack.

3. Beat eggs, 1/2 cup sugar, and a pinch of salt in a metal bowl with a handheld electric mixer at medium-high speed until doubled in volume, about 5 minutes. Set bowl over a saucepan with 1 inch of simmering water and beat custard until an instant-read thermometer registers 140F, about 5 minutes. Continue beating over heat 3 minutes more. Remove bowl from heat and continue beating until mixture cools, then chill custard until cool, about 10 minutes.

4. Toss berries with remaining tablespoon sugar in a large fine sieve set over a bowl, then force berries through sieve, pressing on solids, and discard seeds. (If frozen, microwave until soft before sieving).

5. Fold strained raspberries into cooled custard. Beat cream with cleaned beaters until it just holds stiff peaks and fold into berry mixture.

6. Pour filling into crust. Wrap pan in foil and freeze at least 4 hours. (Filling will be firm but not frozen solid.)

7. Run a knife around edge of torte and remove side of pan.

You can freeze up to 2-3 days.