(printer friendly)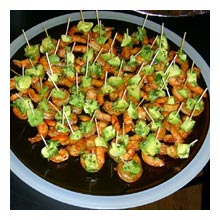 3/4 pound large shrimp, peeled and uncooked

MARINADE
1 clove minced garlic
1 Tablespoon brown sugar
3 Tablespoons soy sauce
1 teaspoon chile powder
2 teaspoons lime juice
1/4 teaspoon hot pepper flakes
2 teaspoons peanut oil

GARNISH
1 avocado, cut into even 1/2 inch chunks
2 teaspoons lime juice
2 Tablespoons cilantro, minced
salt and pepper to taste




1. Mix marinade ingredients together and marinate shrimp for 1/2 hour to 2 hours.

2. Broil shrimp 4 inches from heat for 2 minutes. Flip shrimp and broil on other side until done (about 2 minutes more). Cool shrimp slightly.

3. Gently mix avocado with lime juice, cilantro, salt & pepper.

4. Skewer an avocado slice then a shrimp with a toothpick. Repeat with all shrimp and arrange on a platter.

Shrimp can be cooked ahead through step 2 and refrigerated for several hours.