(printer friendly)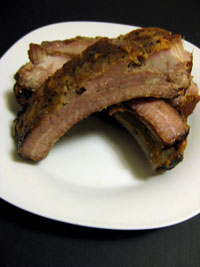 1-2 racks of baby back ribs
Salt
Pepper


1. Preheat oven to 325 F.

2. Liberally salt and pepper both sides of ribs. Place meatier side down on an unlined broiler pan.

3. Roast 60 minutes and then flip ribs. Roast another 60 minutes and then turn off oven. Leave ribs in oven and let cook/rest another 20-30 minutes.

4. Remove ribs from oven and cut into individual ribs.