(printer friendly)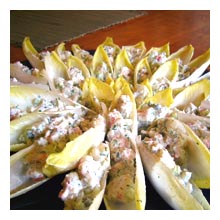 1 pound raw shrimp, peeled, but save shells
3 cups water
1 teaspoon salt

1 cup white wine
4 peppercorns
5 coriander seeds
1/2 bay leaf
5 sprigs parsley
1 sprig tarragon
1 teaspoon lemon juice

1/2 cup mayonnaise
1/2 cup celery, cut into small dice
1 tablespoon capers
2 tablespoons dill
salt & pepper

3-4 heads of belgian endive, separated, cleaned and trimmed


1. In a large pot, bring 3 cups of water and 1 teaspoon of salt to a boil and add the reserved shells. Reduce to low, cover and simmer for 20 minutes (watch as the mixture tends to boil over). After 20 minutes, strain liquid back into the pot and discard shells.

2. Add wine, peppercorns, coriander seeds, bay leaf, parsley, tarragon and lemon juice to the shell stock. Bring to a boil for 2 minutes, then remove pot from heat. Stir in shrimp, then cover pot. Let sit (off heat) for 5-10 minutes or until shrimp turn pink. Do not overcook. Drain shrimp (reserve stock for another use, if desired) and then put shrimp in cold / ice water to stop cooking.

3. Pat shrimp dry and chop into small dice. Mix mayonnaise, celery, capers and dill with shrimp. Season with salt and pepper to taste. Put a small scoop of shrimp mixture onto the base of each endive leaf.

Shrimp mixture can be made several hours in advance.