(printer friendly)
Makes 16 crostini; excellent with a martini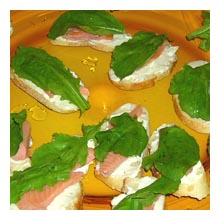 16 baguette slices, toasted, cooled
Unsalted butter, room temperature
8 ounces smoked trout or black cod, skin and bones removed

1 lemon
16 arugula leaves


1. Spread toasted bread slices with butter. Break trout into bite-size pieces and arrange on toasts, dividing equally and pressing to adhere.

2. Squeeze a little juice from lemon over trout. Season trout with pepper.

3. Place an arugula leaf on each toast and serve.