(printer friendly)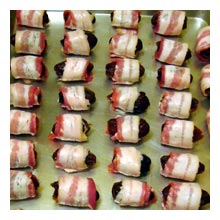 24 large fresh dates
12 slices thin bacon, halved crosswise
2 ounces goat cheese
24 unsalted almonds, toasted


1. Preheat oven to 500°F.

2. Pit dates, tearing them open as little as possible. Set dates aside.

3. Roughly chop almonds and mix with goat cheese.

4. Stuff dates with goat cheese mixture and wrap dates with bacon.

5. Place dates on a baking sheet, seam side down, at least 1/2 inch apart. Bake until bacon is golden and crisp, 8-15 minutes. Drain on paper towels and set aside to cool briefly before serving.