(printer friendly)
Makes 24 crostini (good with champagne!)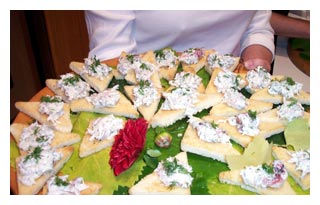 6 slices thin white bread
3 tablespoons melted butter
1/8 teaspoon cayenne pepper
1/4 teaspoon salt

6 ounces crabmeat
1 tablespoon minced shallot
1 tablespoon minced dill
2 tablespoons light mayonnaise
2 tablespoons light sour cream
2 teaspoons lemon juice


1. Preheat oven to 350.
2. Remove crusts from bread and cut in half on the diagonal.
3. Mix cayenne and salt with melted butter and brush onto one side of bread.
4. Arrange bread on baking sheet and bake 10 minutes; cool on wire rack. (Toasts can be made a day ahead. Cool and store in airtight container.)

5. Combine the remaining ingredients, except crab. Then gently stir in crab, trying not to break it up too much. (Can be made up to 6 hours ahead, store in fridge.)
6. Spoon crab mix onto the crostini and serve.