(printer friendly)
Serves 8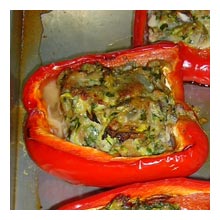 1.5 pounds chicken italian sausage, casings removed
1.5 cups coarsely grated zucchini (about 1 large)
1/2 cup finely chopped red onion
1/3 cup minced parsley
1/4 cup fine dry breadcrumbs
1 large egg
1 teaspoon ground black pepper
3/4 teaspoon salt
1/2 teaspoon minced rosemary

4 medium-size red bell peppers, halved lengthwise and seeded


1. Preheat oven to 350°F.

2. Mix first nine ingredients in large bowl until well blended.

3. Fill pepper halves with sausage mixture, dividing equally and mounding slightly. Arrange in baking dish. (Can be made 1 day ahead. Cover and chill.)

4. Bake peppers uncovered until tops are browned and thermometer inserted into filling registers 165°F, about 1 hour.

5. Transfer peppers to platter and serve.