(printer friendly)
Serves 4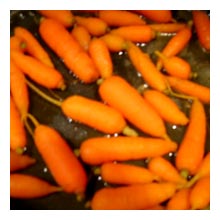 1 pound carrots, peeled, quartered lengthwise, and cut into even sticks
1/2 cup water or chicken stock
1 1/2 tablespoons butter
1 teaspoon brown sugar
1/2 teaspoon salt
1 tablespoon chopped parsley


1. Place carrots, water or stock, butter, brown sugar and salt in a saute pan that is large enough to hold the carrots in a single layer.

2. Simmer, covered, over medium heat until the carrots are tender and most of the liquid has been absorbed, 15-20 minutes. When the pan is almost dry, continue to cook the carrots for a few minutes more, then season with parsley. Serve.