(printer friendly)
Serves 6 as a first course.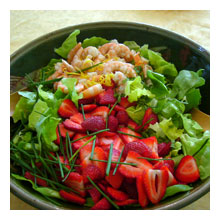 1 pound medium-large fresh shrimp (24 to 36 shrimp)
1/4 cup water
2 slices lemon

Honey Mint Vinaigrette
1 tablespoon sherry vinegar
1/2 teaspoon coarse salt
freshly ground black pepper
2 teaspoons minced fresh mint leaves
1 clove minced garlic
1 tablespoon fragrant honey, warmed
3 tablespoons olive oil

2 heads of butter lettuce
2 cups perfect strawberries, sliced lengthwise
1/2 cup fresh mint leaves, finely shredded
1/4 cup chiffonnade of chives
zest of 1 lemon, blanched in boiling water for 2 minutes


1. To prepare shrimp: Steam shrimp in a covered saute pan with the water and lemon slices until the shrimp are just cooked through (they will turn bright pink). Do not overcook. Remove, peel and de-vein shrimp optionally leaving tails on (looks pretty, but harder to eat). Shrimp can be made a few hours ahead and refrigerated.

2. To prepare dressing: Combine vinegar, salt, pepper (to taste), mint and garlic and whisk to dissolve salt. Add the honey and oil and whisk until emulsified. Use right away or refrigerate and whisk again just before using.

3. Arrange lettuce leaves on a plate and place shrimp and strawberries on top. Scatter mint, chives and lemon zest over the top. Drizzle dressing evenly over each salad and serve.