(printer friendly)
Serves 4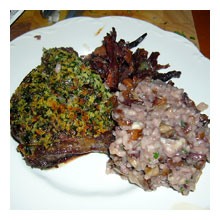 Jus
1 Tbsp. unsalted butter
4 shallots, finely chopped
1/4 cup red wine
2 cups beef reduction (reduced from 4 cups good beef stock--see recipe for Chez Panisse Beef Stock recipe)
1 Tbsp. capers, rinsed

Herb Crust
2 Tbsp. flat-leaf parsley, coarsely chopped
2 Tbsp. unsalted butter, melted
1 Tbsp. olive oil
1/4 cup Japanese Panko crumbs
3 Tbsp. chopped parsley
2 Tbsp. fresh thyme leaves
1 Tbsp. fresh tarragon, coarsely chopped

Tenderloin
four 4-oz. portions beef tenderloin (prime rib steaks would be good as well)
2 Tbsp. vegetable oil

Chanterelles
2 Tbsp. unsalted butter
1/2 lb. chanterelle mushrooms, trimmed and cleaned
1 clove garlic, minced


1. To prepare Jus: In a saucepan over medium heat, melt the butter and saute the shallots. Remove 1 Tbsp. shallots and set aside. Deglaze the pan with wine and reduce by two-thirds or until slightly syrupy. Add the beef reduction and reduce by another on-third. Strain through a fine-mesh sieve. Add the capers and reserved shallots. Set aside. (Can be made a day ahead.)

2. Herb Crust: Preheat oven to 400°F. Mix together all herb crust ingredients and season with salt and freshly ground black pepper.

3. Tenderloin: Season the beef tenderloin with salt and freshly ground pepper. Heat an ovenproof frying pan over high heat and add vegetable oil. When hot, add the tenderloins and sear on each side for 2 minutes or until brown. Remove from heat and firmly pack herb crust on one side. Transfer to oven and roast to medium rare (115-120°F internal temperature) or until desired doneness (should only take about 10 minutes). Remove from oven, cover loosely with aluminum foil and allow to rest for at least 10 minutes.

4. Chanterelles: Heat a saute pan over high heat, melt butter and add chanterelles and garlic. Cook until golden brown.

5. To assemble: Place tenderloin on plate and put some chantarelles around it. Spoon warm shallot and caper jus over chanterelles. Sprinkle a pinch of salt on the beef.