(printer friendly)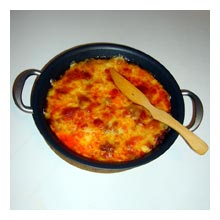 1 block of Queso Oaxaca (a Mexican mozzarella-type cheese) or Monterey Jack cheese, thinly sliced
2 medium chorizo sausages, removed from casings
6 cremini mushrooms, thickly sliced
1/2 teaspoon dried oregano
1/2 small can of roasted Poblano chile, cut into strips
Fresh flour tortillas




1. Preheat oven to 250°F. In a skillet over med-high heat, brown loose chorizo, crumbling to break apart any large pieces. When browned, remove chorizo and place into shallow, ovenproof ramekin or dish. Push the chorizo over to one side of the dish.

2. Add the mushrooms to the skillet, and saute in the chorizo juices until they are soft and tender (you may need to add olive oil or butter if there is not enough fat from the chorizo). Put the cooked mushrooms into the dish, making a pile on the opposite side from the chorizo.

3. Put the roasted poblano strips in the middle. Layer cheese into the ramekin with the mushrooms and chorizo. Keep the cheese primarily in the center, so that you can see the chorizo on one side, and the mushrooms on the other. Can be made ahead until this point and then refrigerated.

4. Bake in 250°F oven for 20-30 minutes, until cheese is melted. Then turn on the broiler and broil until cheese is slightly browned and bubbly.

5. To serve, set dish on trivet on table and provide hot tortillas and a serving fork for each person.