(printer friendly)
Great spread on crackers or toasts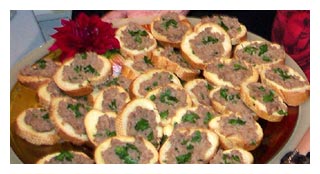 2 legs of duck confit
1/4 cup duck fat
1 or 2 garlic cloves
salt
pepper


1. Remove and discard the skin from the duck legs and tear the meat into shreds (also discard any tendons you come across). There should be about 1 to 1 1/2 cups meat.

2. In a saute pan, warm the meat in the duck fat over medium heat for a few minutes, but do not let it brown. When the meat has softened, transfer contents of the pan to a mixing bowl.

3. Pound the garlic to a paste in a mortar with a little salt. Add the garlic and a generous amount of pepper to the mixing bowl.

4. Work the meat into a rough paste with a wooden spoon or a potato masher. You can also use a food processor, but do not over-process or else the meat will become stringy.

5. Taste and correct for seasonings. Wrap tightly and refrigerate overnight--the flavors will meld and the texture will become more like pate.

Rillettes will keep up to a week in the fridge. Remove the rillettes from the refrigerator before serving. Serve on crackers or toasts.


Note: You can make the duck confit, but it's also good with store bought confit. I like the Grimaud Farms brand, which can be found at Whole Foods (or similar stores). The best place to find duck fat (in Seattle) is at University Seafood & Poultry.