(printer friendly)
makes about 60 palmiers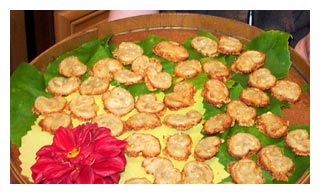 1 frozen puff pastry sheet, thawed but kept chilled
2 cups Gruyere, grated


1. Preheat oven to 375F. Line baking sheets with Silpat or parchment.

2. Sprinkle some cheese on a work surface and cover it with puff pastry sheet. Then sprinkle more cheese evenly over pastry sheet and roll it out into a slightly larger rectangle with a rolling pin. Cut pastry into 4 even pieces with a pizza cutter or sharp knife. You will now have four even rectangles.

3. For each rectangle, fold in each longer side of the pastry about 1/2 an inch. Folder over each side again until they meet in the middle. Fold one half of the pastry over the other. (Recipe can be made a day ahead to this point. Wrap logs in plastic wrap and refrigerate until ready to bake.)

4. Cut pastry crosswise into 1/4-inch-thick slices and arrange, a cut side down, on lined baking sheet. Repeat with three remaining pastry sheets.

5. Bake palmiers in batches in middle of oven until golden, about 18-20 minutes.

6. Transfer to a plate and serve!