(printer friendly)
Serves 4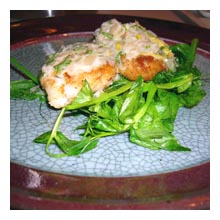 4-8 halibut cheeks (depending upon size)
1/2 cup flour
salt & pepper
2 tablespoons butter
2 tablespoons olive oil

TARRAGON BEURRE BLANC
1/2 cup dry white wine or vermouth
2 shallots, roughly chopped
2 cloves garlic, minced
6-8 tablespoons cold unsalted butter, cut into pieces
zest of 1 small lemon
4 tablespoons tarragon, roughly chopped


1. Combine wine, shallots & garlic in a small saucepan, Bring to a boil and reduce until there is about 1 tablespoon of liquid left (be careful not to burn). Remove pan from heat and set aside.

2. Season fish with salt & pepper. Lightly dredge in flour and tap of excess.

3. Heat 2 tablespoons each of butter & olive oil in a large skillet over med-high heat. Add fish and cook until nicely browned, about 3-5 minutes on each side.

4. While fish is cooking, gently reheat the wine & shallot mixture over low heat. Add cold butter, lemon zest and tarragon and whisk until incorporated and has a creamy consistency. Be careful not to overheat, otherwise butter will separate and sauce will become oily.

5. Plate fish and spoon sauce over. Garnish with wedges of lemon.

This sauce would be great with other seafood such as: halibut fillets, sole, lobster or scallops!