(printer friendly)
Makes 2 dozen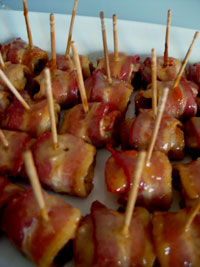 1 pound bacon
2 cans water chestnuts

1/3 cup brown sugar
1/3 cup mayonnaise
1/3 cup chili sauce


1. Preheat oven to 350 degrees.

2. Cut bacon strips in half. Wrap 1/2 a bacon strip around each water chestnut and secure with a toothpick. Place on a rimmed baking sheet.

3. Bake at 350 degrees for 20 minutes, or until bacon has rendered most of its fat, but is not yet crisp. You may need to adjust cooking time if you use thick cut bacon.

4. While the wraps are baking, make the sauce by combining the remaining three ingredients in a small bowl. Once the wraps are done, transfer them to a clean baking dish (discard bacon grease) and pour the sauce over them.

5. Bake again at 350 degrees for 10-15 minutes, or until bacon is crisp (again, this may take longer if using thick cut bacon).

Bacon wraps can be made completely ahead of time, stored in the fridge for up to 2 days. Reheat in a 350 degree oven until re-crisped.