(printer friendly)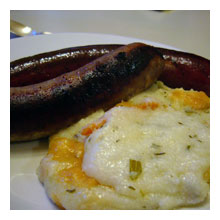 1 tablespoon butter, softened
4.5 cups water
1 teaspoon salt
1 cup medium ground cornmeal (polenta)
1 tablespoon chopped thyme
2 tablespoons chopped marjoram
3 cups grated gruyere cheese


1. Preheat oven to 350. Grease a square baking dish with the softened butter.

2. Bring the water and salt to a boil, then slowly whisk in the polenta. Stir for 5 minutes or until it starts to thicken. Add the herbs and 1/2 of the cheese and stir to incorporate. Pour mixture into the buttered dish and top with remaining cheese. Bake in oven for 1 hour, or until cheese is melted and bubbling.