(printer friendly)
Serves 4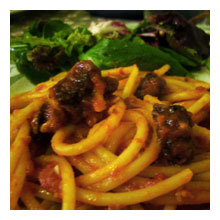 3/4 to 1 pound guanciale, cut into 1/4 inch cubes
1/4 cup olive oil
1 large yellow onion, sliced
6 cloves garlic, minced
1 28 oz can of imported Italian tomatoes
1 teaspoon red pepper flakes
salt and pepper, to taste

1 pound bucatini pasta
1/2 cup Pecorino-Romano cheese, grated


1. Start a large pot of boiling water for the pasta.

2. In a large frying-pan over medium heat, cook guanciale until crisp and then drain on paper towels. Watch carefully as it's easy to burn the guanciale.

3. Pour off all but 1 tablespoon of the fat then add the olive oil. Adjust heat to medium-high and add the onions when the oil is hot. Cook onions until golden, about 5 minutes. Add garlic and saute for 1 minute longer. Add the canned tomatoes and pepper flakes and simmer for 10-15 minutes. Season with salt and pepper (salt may not be needed as the guanciale is pretty salty). I sometimes add a pinch of sugar if the tomatoes don't taste sweet enough.

4. Cook pasta for 10-12 minutes, or until al dente, while the sauce is simmering. Warm bowls or plates for the pasta--this dish is best eaten while piping hot.

5. Drain the pasta and then toss it with the sauce. Add the cooked guanciale and the cheese and toss again. Serve immediately in warmed bowls.