(printer friendly)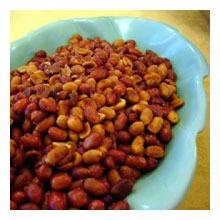 8 oz red (Spanish) peanuts, with skins
canola oil for deep frying
1/2 teaspoon salt
1/2 teaspoon ground, toasted sichuan pepper


1. Heat the oil over medium heat until it reaches 225°F. Add the peanuts and fry in the oil for 15-25 minutes, stirring often. Keep an eye on the temperature, adjusting as necessary so that the nuts don't burn. When the nuts are crisp, remove with a slotted spoon and drain well. Spread out into several layers of paper towels and let them cool for awhile.

2. When cool enough to handle, transfer the nuts to a bowl and mix in the salt and sichuan pepper.