(printer friendly)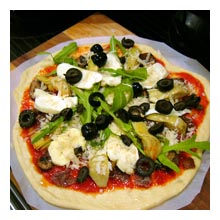 2 tablespoons olive oil
1 small onion, minced
3 cloves garlic
2 tablespoons tomato paste
1 28oz can of crushed tomatoes
1 tablespoon sugar
1 cup low sodium chicken broth, heated
salt & pepper


1. Heat the olive oil in a medium saucepan over med-high heat. Saute the onion until soft then add the garlic and cook one minute longer.

2. Add tomato paste and tomatoes and cook for about 5 minutes. Then add the warmed chicken broth. Turn up heat and reduce until sauce thickens, about 20-30 minutes.

3. Put sauce through a food mill, then it's ready to go onto pizza! Sauce may be made ahead and frozen for 1-2 months.