(printer friendly)
Serves 2-3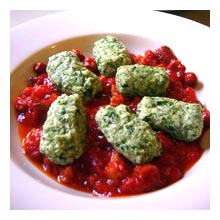 Sauce Ingredients
1 teaspoon olive oil
4 ounces pancetta, cut into 1/4 inch dice
1 medium-sized can of whole tomatoes
freshly ground black pepper, to taste
1/4 cup vodka

Gnudi Ingredients
1 large bunch of raw spinach
1 1/2 cups fresh ricotta
1 egg yolk
1/4 cup of grated Parmesan cheese
pinch of nutmeg
salt and pepper to taste
1/2 - 1 cup flour


1. Heat olive oil in a large skillet over medium-high heat. Add pancetta and saute until golden and crunchy. Add tomatoes, with some of their juices. Mash tomatoes slightly to break them up. Season with pepper and let simmer over med-low heat while making the gnudi.

2. Wash the spinach thoroughly to remove all dirt and grit. Steam spinach with a little water in a large pot over high heat until completely wilted.

3. Drain the spinach very well, squeezing with your hands when it's cool enough to touch. In a small pan, saute the spinach to dry it as much as possible, being careful not to scorch the spinach.

4. Once the spinach is as dry as possible, add it to a food mill along with the ricotta and grind into a large bowl. Add the egg yolk, Parmesan cheese, nutmeg, salt and pepper.

5. Mix in about 1/4 cup of flour and gently kneed with your hands. Keep adding flour until the mixture is dry enough to form into shapes. The less flour used, the better.

6. Shape the gnudi into small cylindrical shapes or circles. Make sure they aren't too thick otherwise they won't cook all the way through. Place the gnudi on a floured surface until ready to cook.

7. Bring a large pot of salted water to a slow boil. Drop a few gnudi in at a time. When they come up to the surface, they are ready. Remove from the water, drain and keep warm in a heated bowl while you finish the sauce.

8. Turn up the heat on the sauce and add the vodka. Bring to a simmer and cook 2-3 minutes only, stirring frequently. Ladle sauce into heated bowls and the top with the gnudi.