(printer friendly)
Makes 24 pieces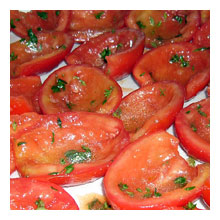 12-14 plum tomatoes (about 2 pounds)
2 tablespoons olive oil
1/4 teaspoon salt
2 teaspoons sugar
2 teaspoons thyme leaves

1 baguette, cut into 1/2 inch thick slices
olive oil
2 tablespoons marjoram
8 ounces fresh mozzarella, cut into 24 slices (1/2 inch thick)
24 small, whole basil leaves


1. To make tomatoes: Preheat oven to 250°F. Cut the tomatoes lengthwise in half and remove the seeds by poking them out with your fingertip. Toss the tomato halves with the oil, salt, sugar and thyme in a bowl. Spread the tomatoes cut side up on a baking sheet and bake for about 2-3 hours. The tomatoes should be slightly browned on the edges, the skins wrinkled and have the texture of a soft prune. Can be made ahead and refrigerated, but bring to room temp before serving.

2. To make the toasts: Preheat broiler. Brush both sides of bread slices lightly with olive oil and put on a baking sheet in a single layer. Toast until golden brown and then turn over and toast other side.

3. Assembling: Preheat oven to 350°F. Top each toast with a tomato half, a sprinkle of marjoram and a slice of mozzarella. Warm crostini in the oven just until the cheese softens, about 3 minutes. Transfer crostini to a serving platter and top each with a basil leaf. Serve immediately.